Hey there! Some links on this page are affiliate links which means that, if you choose to make a purchase, I may earn a small commission at no extra cost to you. I greatly appreciate your support :)
I love using this egg white and lemon hair mask on my long Indian hair to make them grow faster and shine brighter. Today I am sharing the recipe of this hair mask that I have been using for years and years now and it had never ceased to show its magic on my hair.
Egg white and lemon hair mask is loaded with protein and antioxidants which not only triggers your hair growth but also helps maintain your scalp's natural pH. It also helps to brighten dull hair in just a couple of minutes.
This is a hair mask recipe that I actually learned from my childhood best friend grandma. This is the recipe that her grandma use to make for her and she had the most beautiful and thick lustrous jet black hair.
So, today, I am sharing this recipe so you all can have that amazing hair too. Enjoy!
Diy Egg White And Lemon Hair Mask
When her grandma was making this egg white and lemon hair mask, she actually used whole eggs(both egg whites and egg yolks) but I am just using egg white here. The reason being egg yolks stink a lot and I just cannot bare the smell. Even after good smelling shampoo the stinky egg feeling is still there and it just freaks me out.
Benefits Of Egg And Lemon Hair Mask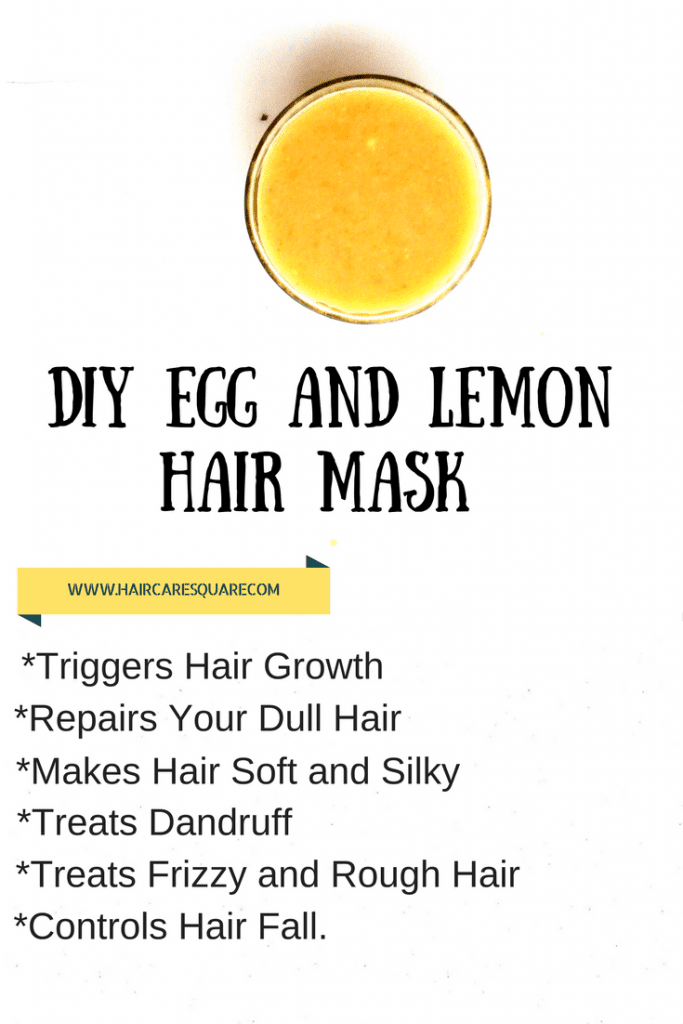 This egg white and lemon hair mask not only triggers your hair growth but also
repairs your dull hair
makes hair soft and silky
treats dandruff
soothes itchy scalp
adds instant shone
treats frizzy hair
minimizes hair breakage
controls hair fall.
How To Make Egg And Lemon Hair Mask At Home?
To make this hair mask, you will need:
eggs -2
yogurt -4 tsp
a lemon
castor oil -2 tsp
I am making this mask for my long Indian hair, you can double or half this recipe as per your hair length.
Here is a quick hair care tip for you guys whenever you make any egg hair mask at home
If you have dry hair, use only egg yolk
If you have oily hair use only egg white
If you have normal hair, use whole egg(both egg whites and yolk)
If you are like me who just can't tolerate smell of eggs and have dry hair, egg whites still works great because we are balancing here with other ingredients.
Step By Step Guide To Make Egg And Lemon Hair Mask
Separate the egg white and egg yolk.
Add 4 Tsp yogurt along with lemon juice of 1 whole lemon and mix everything really well.
Then add 2 Tsp Castor oil to the mixture and again mix everything up to form nice smooth hair mask.
How To Use Egg White And Lemon Hair Mask?
Just start partying small sections of your hair and apply this hair mask concentrating on your scalp then hair length and finally make sure to apply a generous amount on your tips. Wear a shower cap or a plastic bag to prevent dripping and drying of the hair mask.
Notes
Leave this hair mask on for 1 to 2 hours and then remove it using COLD Water. This is a must. Reason being that with hot water, the egg starts forming chunks and sticks to your hair. So make sure you remove this hair mask with COLD WATER and then shampoo and condition your hair as you always do.
Just after the first application you will notice some difference. You hair will appear more healthy, shiny and smooth.
You need to keep using this egg white and lemon hair mask once a week for at least a month to notice hair growth and controlled hair loss.
This hair mask will help you treat dandruff or any kind of scalp infections that you have. Plus it removes buildup, regrows new hair and would fight split ends too.
Why This Egg White And Lemon Hair Mask Would Work?
I usually ask myself this question before using any hair mask or hair product. Then, I take a look at the ingredients. You know I have a habit of analyzing the ingredients like I mentioned in this post to look at the ingredients while buying your perfect shampoo according to your hair type.
Benefits of eggs for hair
Eggs are loaded with proteins, amino acids, vitamins and fatty acids. These make egg the perfect bff for your hair. Eggs makes our hair soft, treats dandruff and split ends plus makes our hair healthy and shiny. It also removes dryness and makes hair more manageable and triggers hair growth. You can also check out this study and this study for more information.
Here is another hair care tip for you guys
Benefits of lemon for hair
Lemons are rich source of Vitamin c, Vitamin B, folic acid. Plus lemon contains Limonene that actually is very well known for adding instant life to dull and brittle hair. A while back I wrote a post on a diy lemon and yogurt hair mask to treat dandruff. In that post, I explained in brief the benefits of lemon for hair.
Here is another quick hair care tip for you lovelies
Benefits of yogurt for hair
Yogurt is one the ingredients that actually adds instant shine and life to your lifeless hair. This multi vitamin rich ingredient helps in taming your frizzy hair, removing product build up from your hair, best treatment for dandruff that I swear by, treats split ends, promotes hair growth and controls hair fall.
Plus it is one of the best natural conditioners because it is rich in lactic acid content which adds to smoothness of softness. Don't forget to check out this exclusive yogurt hair masks recipes.
Here is another quick tip
Eat a bowl full of Yogurt everyday. This will fight yeast infections, make your hair grow faster, make your skin look younger and help in improving your blood and digestive system. Eat it in any form, you like but make sure you do.
Benefits of castor oil for hair
Despite of it being extremely heavy oil, I just can't stop using it for my hair and skin. Castor oil is amazingly rich in moisturizing properties that treats dry hair. It is one of the best ingredients that will help you grow your hair most quicker and healthier.
Here is another quick tip
If you are aiming to grow your hair faster, then simply take the hair oil according to your hair type and add 2 tsp of castor oil and oil from 2 Vitamin E capsules. Mix well. Warm it using double boiler method and massage well. Keep overnight.
So, guys I hope this egg white and lemon hair mask helps you to grow your hair faster and healthier. If you have any questions do leave it in the comment section below. Before you leave, don't forget to check out:
Have a lovely day.