Hey there! Some links on this page are affiliate links which means that, if you choose to make a purchase, I may earn a small commission at no extra cost to you. I greatly appreciate your support :)
In today's saturated world of beauty blogging, more than 500 million blogs already exist and more than 2 million blog posts come to existence each day. Is it still possible to start a beauty blog and earn money in 2022?
The simple answer is YES.
I have been in the beauty blogging industry for more than 7 years now and I am earning my livelihood via my beauty blogs. In this post, I will share the exact step by step instructions on how to start a beauty blog and tricks to earn money through your beauty blog in 2022.
Myths About Beauty Blogging
Before I begin sharing my step by step guide to start a beauty blog and money-making secrets, I wanted to bust some common myths about beauty blogging.
You Need To Be Rich To Be a Successful Beauty Blogger
This is something I hear very often.
People believe you need to buy a lot of expensive outfits, high-end makeup products, accessories, and camera to start a beauty blog.
This is simply not true.
You just need a decent camera(even your phone camera works) and you can start by writing about the products that you already own.
When I started my beauty blog, I started with just DIYs because I couldn't afford expensive makeup. And guess what, I still found my audience.
It's Hard To Find Your Audience In This Over Saturated Niche
This is a fair doubt to cross your mind.
Every day new beauty blogs are created which probably have more budget, more expensive gadgets, huge teams, and whatnot at their credit.
So how can you start a beauty blog in 2022 and still find an audience?
The answer is very simple: You need to define your niche early on.
Beauty blogging ideas
Beauty blog about curly hair

Natural hair
Compilation of best and easy to do hairstyles and hacks

Beauty blog about skin care

Nails and nail products reviews

Budget beauty blogging

Start a beauty blog about high-end products

Only beauty hacks or DIYs

Just product reviews

A Blog For Teenage Skincare

Blog About mature skin care
The possibilities are countless.
Just identify what you are truly passionate about and trust me, the audience that shares your similar interests will follow you.
Instead of having a blog for everything under the sun, I currently own two beauty blogs one is specifically for hair and the other just for product reviews and I have a different set of audience that follows my respective blogs.
It's Impossible To Make Money Beauty Blogging In The Beginning
This is such a huge myth.
After starting a beauty blog, you can start earning from day one.
Just add affiliate links, place some ads, and post high-quality content and you can start earning since the day your blog came into existence.
How To Start A Beauty Blog? (With Step-by-Step Instructions)
This beauty blog gave me my identity, financial independence, lots of blogging friends, free beauty products too and most importantly gave me my Confidence back when I was struggling.
I hope you start a beauty blog for any reason you like (you can start one just for the sake of fun or for some side income) and I wish you all the success in the world.
So, lets start.
Find A Niche For Your Beauty Blog
For starting a beauty blog, you need to define your Niche… I know it is a techie word but it means you need to find out what you want to write about. You can pick any one of the beauty blogging ideas I shared above or you can start your beauty blog about everything beauty.
Start with what you are passionate about.
Like here at HCS, I write about hair care, you can find anything you like.
Why you need a niche for your beauty blog?
Lets take in account two scenarios.
Scene A: A blog that writes about Skin Care.
Scene B: A blog that writes about everything in the world like make up, cooking along with some posts on Dogs.
Which blog will you trust more for accurate advice on Skin care. I am sure you will go to First Blog.
Hence, find a Niche… It helps you find a place and audience in the saturated world of beauty blogging.
Find a Domain Name
I know more techie words. But this just means find a name for your blog like mine is HairCareSquare.com Find yours!
Finding the perfect name for your beauty blog is like finding that perfect name for your baby. I know it takes time. Be patient and don't be afraid of being creative.
A good idea is to include your name and keyword of your niche like: NimishaLovesHair.com Or NimiReviews.com or something like that.
Keep these things in mind while finding a good domain name to start a beauty blog
Find something that matches your niche.
Keep it short and simple. So that it is easy to remember.
Always try to get .com as an extension instead of any other. But if you can't its not end of the world.
Try not to include numbers in your domain name, people get confused whether to use numbers or spell them.
Try to just use it one words or two.
Host Your Beauty Blog on Self Hosted WordPress
So far, I hope you have your Niche and Domain Name decided.
Now lets, make your beauty blog go live.
We are going to host your blog on WordPress (Self Hosted) using Bluehost.
I know you might be thinking, this is way too technical for me. But don't worry. Just take it one step at a time and this is actually really simple. It will take less than 5 minutes to start your beauty blog.
Step 1: Click here and you will be redirected to Bluehost and click on the Green Button 'Get Started Now'.
Step 2: Select the Basic Package. Since you are a beginner. This is all you need right now.
Step 3: Now you need to enter your domain name in first column (since you have just decided and not registered it before). But in case, you have already registered your domain name, enter it in the 2nd box.
Step 4: Now just fill up your Contact details below. Be sure to enter valid email id since you will be receiving more details via email.
Step 5: Now continue on 'Package Information' and select the one for 36 months. This is recommended because you will get the best deal out of it and save much more. Also, Bluehost asks you to pay full amount upfront so that they can provide you with this amazing deal.
If you feel this is too much you can always choose to buy hosting for 12 months.
Also, don't even keep any doubts regarding money, if you are unsatisfied, Bluehost offers money back guarantee (which I am 100% sure you won't be needing it)
You can see, other options available. You can always come back later and add them but you won't be needing them right now. So, just skip it.
Step 6: Enter your billing information. Now click 'Next'.

Step 7: Now, again Bluehost offers some other options that you can add, but you just skip all of it at the moment and click on Green Button below that says 'Complete'.
Step 8: You finally completed the process and officially you now have a Bluehost account. Congratulations 🙂 I am so proud of you.
Step 9: Click on 'Create Password' button and create a strong password and remember it. You know being a blogger, I have so many accounts that sometimes I just lose track of them. It is always good that you create an excel file for storing all of them together.
Step 10: Now its time to finally login to that account. Login to hosting and not in webmail.
Step 11: Now once you are logged in click on 'I Can Do It' button. Because you can.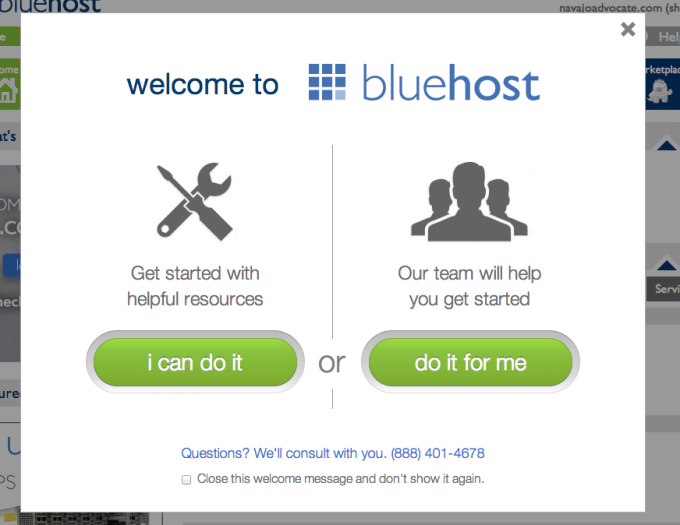 Step 12: Now click on 'Install WordPress' option . In case you can't seem to locate it, its under 'Website Builders tab.'
Step 13: Click on green button 'Install'.
Step 14: Click both the boxes.
Step 15: Now under 'Show advanced options' create a Name for your blog , Username and super secretive Password for your amazing blog… And Click 'Install'.
Now see this green bar shows your blog is being installed. Feeling butterflies in stomach??? I get it. I felt the same while installing mine.
YAY… You did it.
You will receive an email from Mojo market place, save it for future. You are going to need it. Now in the email you will find an Admin url, click on it and it will take you to your blog's login screen.
For getting you password you need to go back to your Bluehost account and click on the very bottom and you will see an alert sign and click on View to view your details. This expires within 12 hours so please get it from there in the mean time.
Now that you have your login id and password, why not write your first post. Just write that thing in your heart out and share it with the world.
It is okay if you feel everyone won't understand.
It is okay if you make some spelling mistakes and grammatical errors.
It is okay if you are scared. Trust me everyone is.
Just write your heart out and trust me in the world of beauty blogging, no one is judging. That is the best part.
Now that you have started a beauty blog, let's discuss how you can make money from your beauty blog.
How Do Beauty Bloggers Actually Make Money?
Now that we have those myths out of our system, let's talk money.
Advertisements
There are a lot of ways to make money online especially when you have a beauty niche blog but the most common and obvious source has to be advertisements.
There are a lot of ad networks that you can opt for as a publisher but I would recommend beginning with Google AdSense. There is a reason it holds the majority of the market and its CPC is good especially when you are just beginning your blogging journey.
Apart from Google AdSense, you should consider other ad networks like
Ezoic (requires 10,000 page views per month)
Monumetric (10000 page views per month)
Mediavine (50,000 monthly sessions)
Adthrive(1,00,000 page views)
Or Buy/Sell Ads which pays comparatively more for ads displayed on your blog.
You can also reach out to brands directly and offer them ad space on your blog for a fixed amount per month. In my 5th month of blogging, I struck a deal with a hair oil brand for $150 in exchange for a sidebar ad on my hair blog.
Affiliate Programs
Affiliate programs are one of the biggest sources of my monthly income.
Do you know people are more likely to buy a product online after reading its uses and benefits? Use this fact to your benefit.
You just need to sign up for affiliate programs like Amazon or Clickbank or others and pick the right product that you normally would buy yourself. Then write a post where you explain how you use the product or why it is something your readers should invest their hard-earned money in.
And add an affiliate link in the post.
If your reader buys through that link, you earn a decent commission from the affiliate networks.
Just a quick tip I would like to share is only register with affiliate programs that you believe in. Don't go recommending every product out there. And always disclose that the link is an affiliate link. This helps build trust among your readers.
Paid Reviews Along With Products
Do you know that 30% of beauty products are purchased online? And now with the pandemic, the percentage has been increasing every day.
That is why brands are always hunting for good quality and genuine blogs to promote their products.
After my first year of blogging, brands started reaching out to me, to try their product and simply write about it on my blog. I used to charge a product sample plus Rs.1000 just to try and write my honest experience.
And mind you, it means you write genuinely what's good about the product and also sharing about its shortcomings. Just because a brand pays you for reviews, don't go all praises and skip out the cons.
Because at the end of the day, your audience sticks with you and they are your main priority. And trust me on this almost every brand that I have worked with was okay with it.
Sponsored Posts
Sponsored posts vary from brand to brand.
Some just want you to share about their new product, while some just wish their press release to be published on your blog in exchange for a good amount of money.
Beauty bloggers usually charge from $30 -$200 per post. It depends on your traffic, niche, and the brand's requirements.
Paid Guest Posts
This is yet another important source of income for beauty bloggers. After you have a decent audience, brands and other bloggers reach out to you for paid guest posts.
Paid guest posts are where you get an all ready-to-publish post that you need to make live on your blog in exchange for a 'do-follow' backlink. This helps them get exposure and also boosts their blog's SEO. And you get good content with decent money.
It's a win-win for both parties.
Beauty bloggers usually charge $10-$1000 per guest post depending upon their blog's traffic and reach.
Social Media Promotions
Apart from your beauty blog, you also need to create and work on your social media from day one. Make your profiles on Instagram, Pinterest, Twitter, and Facebook.
For social media promotions, brands either offer you the content and you just need to share it on your profile or they share a product and ask you to do something creative with it.
Like a few months back, Ponds reached out to a lot of beauty bloggers in the Indian community and asked them to create a video on Instagram featuring '3 Different Ways To Use Ponds Talc In Their Daily Routine'.
Again the charges for different campaigns depend upon different brands, your social media reach, and the social media platform.
A quick tip to land good social media promotions is to be consistent with your posting and engage with your audience. If a brand notices an active profile even with fewer followers, you are more likely to land a deal.
Creating Your Own Products And Selling It
Consider creating your own products to sell on your beauty blog and earn a decent income from it.
You can create your own hair care line, a skincare line, makeup line, or any products as per your target audience and earn money by selling it.
You can also create printables, online courses, or even an eBook that is valuable and sell it on your blog to earn money.
Have A Donate Button
This is not that common and you might not earn that much with it but having a donate button on your blog, still works.
It is the main reason that most free WordPress plugins creators or free stock photo creators have a 'donate button' in place.
Just offer your audience huge value for free and simply encourage them via a call to action button at the end to donate if they are willing.
These are some of the ways that beauty bloggers make money. I hope this post motivates you to start a beauty blog or even helps in branching out your income streams.
Just few basics to keep in mind while starting your beauty blogging journey
Write honestly, don't copy. If someone finds out you copied their content, you might land in copyright issues. Don't be a spammer.
Write at least 600 words per post with a good headline and clear pictures.
To make money first you need to build a website with killer content. At the moment when you start, try to just focus on content for the time being. After all you don't get people connecting with you until you write amazing content. Give them a reason to come back to your blog.
Post consistently.
Befriend other bloggers. Participating in different activities online in beauty blogging group, supporting each other by sharing their posts on social media and share Liebster award.
Welcome to the world of beauty blogging. Hope it helps you find your identity and financial independence like it did for me.

Have a lovely day!