We all lose our precious hair every day.
Someday it is just a strand or two. But there comes a phase where you start noticing your precious manes everywhere. You find them on your pillows, on your hairbrushes, on your bathroom floor, and literally everywhere.
You start to freak out.
You start worrying about whether you have normal hair loss or a severe hair loss that needs to be addressed. Simply put, if you are losing more than 150 strands of hair a day, then you need to start putting in a little effort to minimize your hair loss and regrow your lost hair.
Causes Of Hair Loss You Need To Consider
If you notice you are losing a lot more hair strands than usual then you need to start by addressing the root cause of your hair loss to treat it effectively. There a lot of reasons behind your hair loss but the most important causes of hair loss are:
Genetics
The first and major cause of hair loss is rooted deep in your genes.
If you are genetically inclined towards severe hair loss and premature baldness then you need to tackle it in your early stages. To prevent premature baldness and regrow your lost hair, you need to form a healthy hair care routine.
Start by using a good hair fall control oil; one that includes castor oil and rosemary oil or one that is made up of kalonji or black sesame seeds. Follow it up with a good shampoo for hair fall and include a nutritious diet.
Consistency will definitely be rewarding in your case.
Last update on 2023-12-01 / Affiliate links / Images from Amazon Product Advertising API
Last update on 2023-12-01 / Affiliate links / Images from Amazon Product Advertising API
Last update on 2023-11-30 / Affiliate links / Images from Amazon Product Advertising API
Underlying Medical Condition
If you have some medical condition like alopecia areata, cancer, heart problems, thyroid, irregular blood pressure, tested covid positive, or even high fever, you need to get yourself treated first. Addressing your medical conditions can be a big step to climb the ladders of hair goals.
Hormonal Imbalance
This is a major cause of your severe hair fall but it's also treatable.
If you are experiencing hormonal imbalance due to PCOD, PCOS, irregular periods, menopause, or even pregnancy, you are bound to lose your precious hair but when you work on achieving hormonal balance, you can get your manes back.
Talk to your gynaecologist for better advice on this 🙂
Using Wrong Hair Products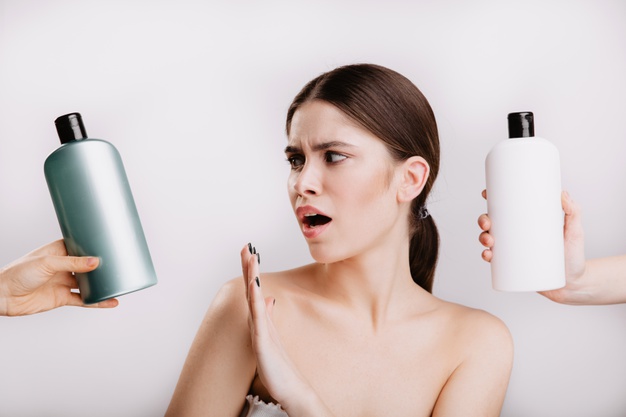 Have you ever got yourself some hair products just because you saw someone raving about it but after using it, your hair started to fall out or your scalp got itchy?
Relatable, right?
The reason being you invested in the wrong set of hair products that aren't meant for your hair and scalp type. When you use a product that is not meant for your hair or scalp type, you are causing more damage than before.
Take for example: You have oily scalp but dry hair and you saw someone recommending a conditioner with natural oils that worked wonders on their dry hair for taming frizz. You buy it. You are hopeful that it would work well on your dry hair. But the result is the opposite.
You slowly notice that your hair is getting greasy just in a day after washing. Your hair is tangling more which eventually adding to your hair loss.
Thus, always take into account your hair type, your scalp type, and the ingredients list of the products before investing in them.
Hair Products With Harsh Chemicals
This is another very common cause of hair loss.
If you keep using hair products with harmful chemicals, like SLS, parabens, added artificial fragrance, harsh mineral oils, and many more then you are damaging your hair and scalp one day at a time.
I am not saying, go completely natural but at least look for the alternatives.
Instead of using hair oils with mineral oils in them, opt for cold-pressed oils. Not only will your hair health improve drastically but you will also control hair fall and experience new hair regrowth.
Improper Hygiene
If you are lazy like me, you might sometimes delay washing your hair.
I know it's a whole drill we need to go through: the hot oil treatment, the steam, the shampoo, conditioner, hair rinse, serum, and sometimes even hair masks.
It is natural to delay it for a day or two. But if you make it a habit of delaying your hair care and follow poor hygiene habits then your procrastination and laziness rewards you with severe hair loss.
However this hair fall is easiest to fix.
Just start now. Start with a basic hair care routine and follow it religiously. You will eventually notice your hair fall in control.
Ignoring Scalp Care
This one is the biggest cause behind most people losing their precious hair.
Scalp care is so terribly ignored by the masses, I feel it should have been included in your school syllabus.
It's like this if you are planting a seed in infected soil, the seed isn't gonna sprout well. The same is the case with the scalp. If your scalp is infected, your hair will have a weak base to work with.
Eventually, you will start noticing hair strands just by running your fingers through your hair.
To tackle this, start by treating any scalp infections you have. Do regular hot oil massage with neem oil and finish off with a shampoo that would combat the infection. Also, regular ACV rinse or lemon rinse proves really effective to balance the pH of your scalp.
Last update on 2023-11-30 / Affiliate links / Images from Amazon Product Advertising API
Scratching Your scalp
It's okay to scratch your scalp once in a while but if you constantly scratch your scalp using your nails, then you end up damaging your hair follicles. This is one of the major causes of premature baldness.
To tackle this, just treat your itchy scalp. Start by massaging your scalp with some tea tree oil diluted in coconut oil or add 2 camphor tablets in your coconut oil and heat it until it melts. This will soothe your itchy scalp.
Last update on 2023-11-30 / Affiliate links / Images from Amazon Product Advertising API
Follow this up with an SLS-free shampoo. This is important in your case because SLS dries your scalp out. Using a good SLS-free shampoo will not strip off your natural oils and your scalp will slowly be healed.
Improper Diet
We all are guilty of this.
With the busy lifestyle we lead, we tend to ignore the nutrition needed. We also eat foods that cause hair loss like fried food, excessive sugar, dairy, and many more.
Start by incorporating a raw onion and raw tomato into your diet daily. This is my favorite hack that helps combat hair loss effectively. Also start eating green leafy veggies, protein-rich legumes and pulses, and eggs if you are comfortable eating.
Using Plastic Combs
There hardly is an article on this hair blog where I don't mention replacing your plastic comb with a wooden one. The wooden comb helps distribute natural oils from your scalp to your entire hair length. Whereas the plastic ones have a static effect on your hair which leads to split-ends and hair breakage.
To tackle this start using a wooden comb and ditch the plastic one.
Last update on 2023-12-01 / Affiliate links / Images from Amazon Product Advertising API
Tight Hairstyles
This is a very common cause of hair loss.
If you love sporting new hairstyles and you often use these plastic rubber bands and if your hair too tight, then you are damaging and breaking your hair one hair style at a time.
To tackle this, start by opting for some hairstyle that isn't too tight.
Friction
Your hair is very delicate. If you treat them harshly, they start losing their beauty.
If you are harsh on your hair while drying or brushing or washing or even while sleeping, then the friction that occurs during every activity damages your hair terribly.
To prevent hair fall caused by friction, start by replacing your regular towel with a soft fiber towel, replace your good ole cotton pillow covers with silk ones, and don't use your nails while massaging or washing your hair.
Harsh Treatments
Lets us accept it we all have been tempted for that perfect balayage or those perfect highlights, or that hair smoothening treatment. We all have a soft spot for it.
And we all know how damaging and harsh these treatments are on our hair.
I know we cannot leave without being tempted by them. But let's try to minimize them. And to tackle the hair loss cause y these harsh treatments, check these:
Stress
If you are suddenly noticing a lot of white strands coupled with a lot of hair loss, then stress might be a culprit behind dragging you away from your hair goals.
I know it doesn't seem like a direct connection between stress and hair heath but there are numerous studies conducted that show a direct impact of stress on our hair. The study conducted on 19 April 2017, and this study showed a direct effect on hair health and stress.
To minimize stress and lead a happy life, try medication, regular scalp massage, yoga, balayam, and dancing. For me, gardening proved to be the most effective.
Lack Of Sleep
This is yet another important cause of hair loss.
Humans need good 7 hours of sleep to function better. And if you don't sleep well, your body is cranky and irritated which induces stress and other health issues. This in turn leads to severe hair loss.
To sleep well, I found scalp massage with soothing essential oils, warm turmeric milk or chamomile tea half an hour before bed works well. I also like reading few pages of any motivational book or listening to some soothing audiobook.
Dieting
I have been a victim of this too.
With the constant lockdown and quarantine time we have had since covid arrived in our world, I put on a lot of weight. And in an attempt to lose weight faster, I tried some diets. These diets did help me reduce weight for a while but left my hair health at its worse.
To recover from this I have started incorporating fish oil supplements in my diet along with a lot of veggies and protein-based foods.
Hard Water
If you live in a place where water is not at its purest or you are using bore well water or hard water to wash your hair, then this might be one of the biggest reasons behind your sudden increase in hair fall.
This one is quite easy to treat. Just heat your water with some neem leaves in it and boil for 5-10 minutes. Then strain and use this water to wash your hair. For more tips on achieving your hair health while leaving in the hard water area, check out this post.
Pollution
No matter how much you try, you are bound to be a victim of this. After all, we cannot stay forever in quarantine. It is inevitable.
To repair the damage caused by pollution, start by using products that deeply cleanse your hair and scalp. Use a good scarf or hair before stepping out. And most importantly, never ever step with wet hair. It will damage your hair and scalp to a deeper level.
UV Rays
UV rays not only hamper your skin but equally troubles your hair.
If you are someone who protects their skin with some sunscreen but skips hair care, then it is one reason you aren't able to treat your hair fall from its root cause.
To treat this hair fall, just try minimizing stepping out in sun. And when you must, try to use some sunscreen diluted in mineral water and spray it on your hair. It forms a protective layer of your hair. Use argan oil as your leave-in for better protection.
And after stepping back home, apply some rosehip oil on your hair like you would apply your serum. Rosehip oil helps repair damage beautifully.
Last update on 2023-12-01 / Affiliate links / Images from Amazon Product Advertising API
Greasy Hair And Oily Scalp
If you have greasy hair and oily scalp, then overproduction of sebum, results in poor hair health. This in turn leads to hair loss.
To protect this, do a lemon hair rinse every time you wash your hair.
Tangled Hair
If you experience that your hair is constantly tangled and you need to put extra effort to detangle them, then this causes hair loss. One reason behind this constant tangling might be product build-up.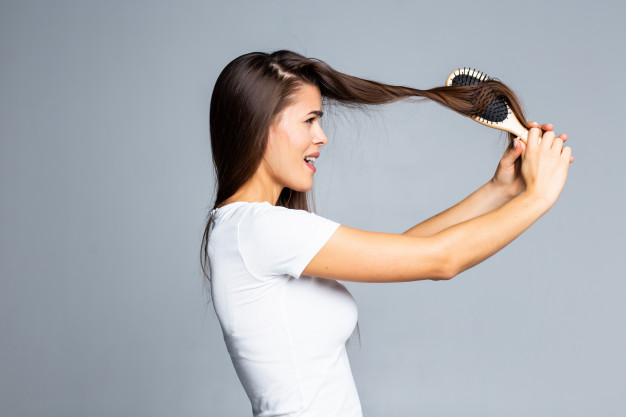 To treat this hair fall, check the ingredients list of your conditioner and if it contains silicones, replace it with a silicone-free conditioner. Also start using a clarifying shampoo once a month and do deep conditioning treatments twice a month.
Hope you find this post helpful in some way. If you feel, I missed any important causes of hair loss, feel free to share them via comments.
Have a lovely day.