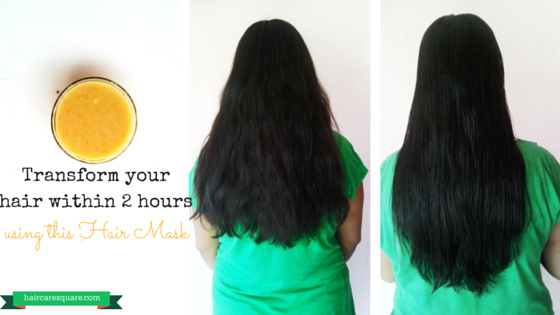 Banana Hair Mask To Repair Your Dry, Frizzy & Damaged Hair In One Go!
Hey Guys,
Have you tried applying banana hair mask on your hair?
If you have dry, frizzy and damaged hair, then banana hair mask is one of those magical masks that will fade away all the frizz from your hair and leave you with beautiful, silky and shiny hair. That too within just two hours. Sounds like a good deal right?
Why banana?
Banana is one of those power-packed ingredients out there that has the power to completely transform your dull and damaged hair into healthy, glossy and silky hair that too within one go. If you have really damaged hair and are looking for a quick fix then this is what you need.
Also Read: How to Moisturize Extremely Dry Hair??? : Reader's Queries + My Solution!
Benefits of banana for hair
Banana contains folic acid which adds beautiful shine and glossiness to your hair. This potassium-rich fruit is a boon for hair and helps in moisturizing dry hair, controlling hair loss and promoting overall hair growth.
Lets finally whip this banana hair mask, shall we?
For making this mask, you will need simple ingredients that are already available in your kitchen.
Banana : 2 (preferably overripe)
Honey : 2 Tablespoon
Milk : 2 Tablespoon (if you have extra dry hair then add coconut milk or raw milk)
Olive or almond oil: 2 tablespoon
How To Make Banana Hair Mask?
To make this mask, start by peeling your banana and mash them real nice. I personally prefer using my fingers to mask them but if you prefer you can use fork or spoon too.
Now add honey, milk, and oil and mix everything really well.
Don't Skip this step… Please
Now, this next step is very crucial. You have to strain your banana hair mask using a muslin cloth. This will ensure that there are no chunks left behind to stick to your hair. If you skip this step then you will end up spending lot of time and water and it will feel like you are in your bathroom for ages trying to remove banana chunks from your hair.
How To Apply The Banana Mask On Hair?
To apply this hair mask, simply part your hair in four sections and apply it like you apply your hair oil,i.e, from roots to your hair length. Make sure to cover entire hair and scalp. Now cover your hair with a shower cap to prevent the hair mask from drying or spilling and leave it on for next one hour.
After an hour first, rinse off your hair with cold water and then shampoo as usual. If you desire, you can use a conditioner, I personally don't feel the need to use my conditioner.
Just after the first use, you will notice beautiful results. Use this mask once a month and you will definitely love your hair.
You might also like: How to do hair spa at home?
Hope you found this post helpful. If you do, please share your feedback with me here or on my Instagram. See you soon with a lot of diys, home remedies, solutions to your queries and lots more. Don't forget to join our facebook group for daily hair care dose.

Have a lovely day!